Goodyear Traction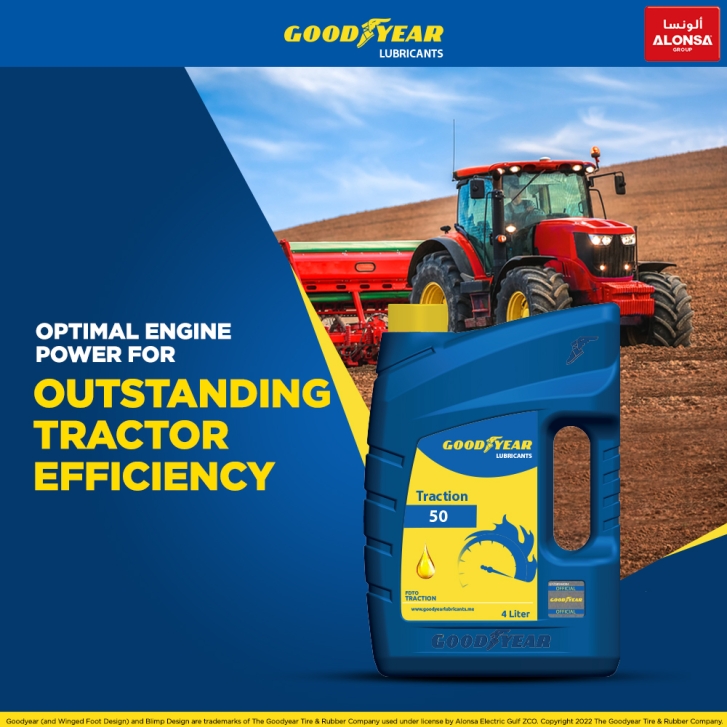 Product Description
Goodyear Traction Final Drive Train Oil FD-1 meets Caterpillar's stringent FD-1 specification for use as Final Drive Traín Oil (FDTO) instead of TDTO products Compared to TDTO's 2000 hours of life, FDTO provides 4000 hours of life. The product is made using high quality virgin base stocks and industry proven additives.
Product Description
Goodyear Traction STOU 10W-40 is semisynthetic extra high performance premium multi-functional oil specially formulated for use in agricultural equipment, engines, transmissions, and differentials with wet brake system and integrated hydraulic system. The product can be used for total tractor lubrication and meets the requirement of many tractor manufacturers.
Product Description
Goodyear Traction TDTO-4 Transmission / Drive Train Oils are specialized, advanced fluids designed for the needs of heavy duty equipment systems in mobile and stationary equipment where Caterpillar TO-4 or Allison C-4 fluids are specified. These fluids provide excellent operating and maintenance benefits across a broad temperature range for increased efficiency, performance, and component protection.
Product Description
Goodyear Traction UTTO 10W30 is the "universal tractor transmission oil" (UTTO) designed to provide a lubrication ¡n transmissions, hydraulic systems, oil-immersed brakes and other system of agricultural tractors and off-road equipment. G-Special UTTO 10W30 combines select base oils and an advanced additive package to deliver the varied lubricant performance properties required in severe duty applications of agricultural and construction equipment drive trains. The advanced technology is designed to optimize the performance of equipment operating in a wide range of environments and conditions
Product Description
Goodyear Traction STOU 15W40 Tractor Oil is a Super Tractor Oil Universal (STOU) formulated with high-quality mineral base oils and a multifunctional additive system to meet the requirements of a wide range of agricultural equipment manufacturers. This multifunctional oil can be used in many different agricultural applications and is particularly useful ¡n equipment where there is a common lubrication system supplying oil for different applications.